December 24, 2020 — Gideon Mayhak
Sarah and I celebrate Christmas in a fairly traditional way: trees, lights, presents. She carefully arranges our commemorative ornaments on the main tree, and I set up an aluminum Christmas tree from my dad's childhood. Most years, Sarah puts together a nice card to send out to friends and family, and I thought I'd share a digital copy on this blog.
---
2020: weirdest. year. ever.
The card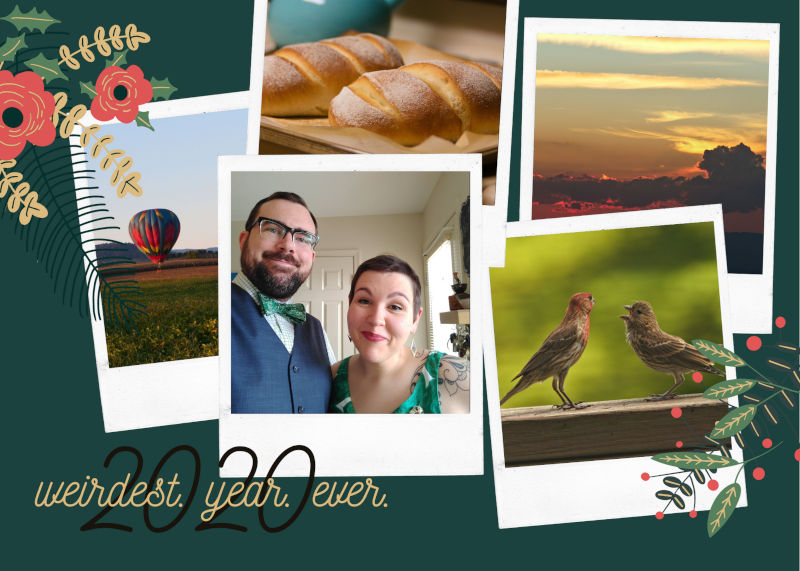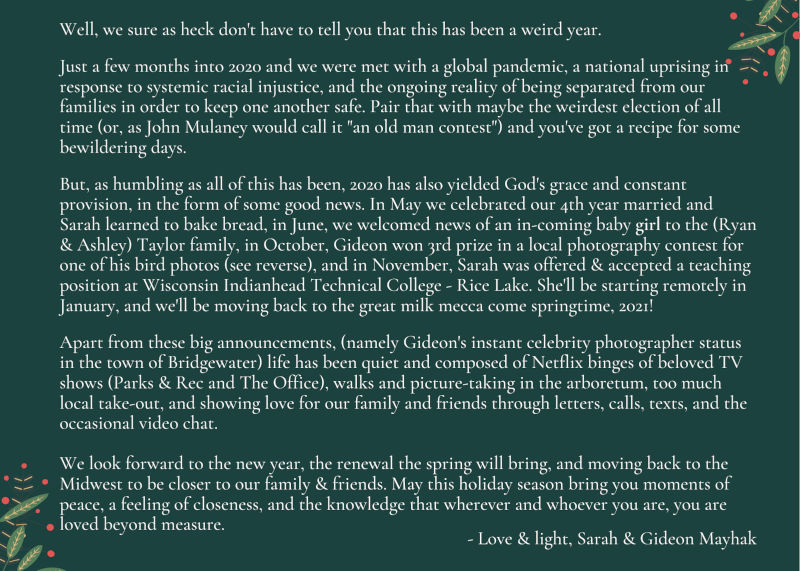 A transcription of the back
Well, we sure as heck don't have to tell you that this has been a weird year.

Just a few months into 2020 and we were met with a global pandemic, a national uprising in response to systemic racial injustice, and the ongoing reality of being separated from our families in order to keep one another safe. Pair that with maybe the weirdest election of all time (or, as John Mulaney would call it "an old man contest") and you've got a recipe for some bewildering days.

But, as humbling as all of this has been, 2020 has also yielded God's grace and constant provision, in the form of some good news. In May we celebrated our 4th year married and Sarah learned to bake bread, in June, we welcomed news of an in-coming baby girl to the (Ryan & Ashley) Taylor family, in October, Gideon won 3rd prize in a local photography contest for one of his bird photos (see reverse), and in November, Sarah was offered & accepted a teaching position at Wisconsin Indianhead Technical College - Rice Lake. She'll be starting remotely in January, and we'll be moving back to the great milk mecca come springtime, 2021!

Apart from these big announcements, (namely Gideon's instant celebrity photographer status in the town of Bridgewater) life has been quiet and composed of Netflix binges of beloved TV shows (Parks & Rec and The Office), walks and picture-taking in the arboretum, too much local take-out, and showing love for our family and friends through letters, calls, texts, and the occasional video chat.

We look forward to the new year, the renewal the spring will bring, and moving back to the Midwest to be closer to our family & friends. May this holiday season bring you moments of peace, a feeling of closeness, and the knowledge that wherever and whoever you are, you are loved beyond measure.

Love & light, Sarah & Gideon Mayhak
Merry Christmas!
---
"For a child is born to us. A son is given to us; and the government will be on his shoulders. His name will be called Wonderful Counselor, Mighty God, Everlasting Father, Prince of Peace."

Isaiah 9:6, WEB
Tags: christmas, meet-the-mayhaks, photography