December 24, 2022 — Gideon Mayhak
Well, 2022 happened. Every few weeks I'd think, Maybe I should write a blog post, and I wouldn't get around to it. Since the card Sarah made this year is sort of one-sided (more below), I figured I'd use this annual post to write up some highlights from the year.
---
come thou fount of every blessing
tune my heart to sing thy grace
The card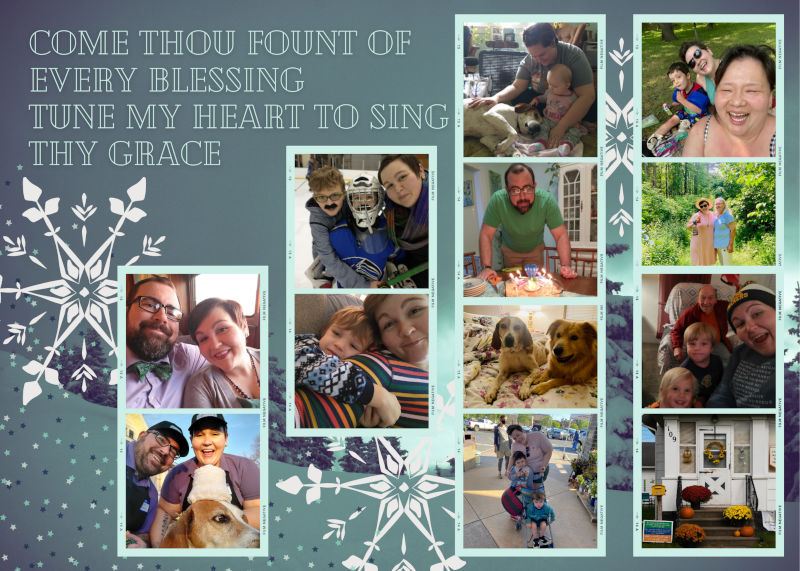 Sarah decided to do this year's mailing in a postcard format, and she wrote a personalized note on the back to each recipient. If you didn't get one, it doesn't mean we didn't send one out: some of them were returned because our "from" address was mistaken for the "to" address. We're trying to resend those.
Ah, has it really been a year?
As with any year, a lot happened. Fitting the themes of past blog posts, I could've written about the new CDs I picked up; I might have some words to share about finally setting up a password manager; or maybe I could talk about my newfound love of electric cars and the fact we bought one this summer. Certainly, I took a lot of photos.
How winter kills
CD buying has slowed, but I pick things up here and there. The most recent purchase I'd like to highlight is Three Pieces by Yazoo (or "Yaz" for some of you folks in the US). This contains the two albums they released along with a third disc full of alternate mixes and other takes. If nothing else, you have probably heard "Situation" somewhere before.
One of our favorite shows is Parks and Recreation, and we rewatched it on Blu-ray this fall. Sarah surprised me with a copy of fictional band Mouse Rat's The Awesome Album as an early Christmas present, which was the perfect way to end our latest Parks and Rec binge. Obviously, it's silly and a bit of a parody, but it's still good music and a lot of fun.
I also came across a CD copy of Les Sins' "Lina" single. The A-side was burned into my brain many years ago, but until this year I thought the only way to own a physical copy was on vinyl. I found through Discogs and eBay that there was a promo CD version floating around out there, and I snatched it up. What a song! (The B-side ain't bad, neither.)
Turn me on with your electric feel
My friend Alex has had a Chevy Bolt EV for a few years now, and it has impressed me. Finally this summer he convinced me it was time to seriously consider an EV for our home, and I picked up a 2014 Chevy Spark EV in June. It has been a fantastic second car for us, and it has me looking with great anticipation toward replacing our 2015 Honda CR-V with the upcoming Equinox EV in the next couple years.
Overall, the Spark EV is about 4 times as efficient as the CR-V from a cents-per-mile perspective. This of course varies with driving and weather conditions, but even the worst efficiency I've been seeing in the Spark on these really bitter winter days has been well over twice that of the CR-V. And the CR-V is no slouch! We regularly get 30-35 mpg, which is impressive for a car its size. That's ignoring the fact the Spark is a much smaller car, but the gas-powered Spark didn't get much better gas mileage than the CR-V...
I should probably wear an "ask me about my EV" button. Feel free to send me an email if you want an earful about the joys of modern EVs.
Don't leave me hanging on the telephone
A big move I've been in the process of making since October is transitioning my phone usage from Google Fi to JMP. JMP gives you a traditional phone number with voice service and SMS that is disconnected from any specific device. You can even port your existing number! It's built on the Extensible Messaging and Presence Protocol (XMPP) using free and open-source software.
This is in conjunction with a move back to my old Moto X4 which is supported by LineageOS so I can have an Android-based device without any proprietary Google stuff on it. Along with LineageOS, I primarily get my apps from F-Droid.
You didn't say the magic word
Something I've been putting off for years and should write a dedicated post about: I finally got around to creating a password database in the KeePass format. This went hand in hand with setting new, strong passwords for all of our critical accounts. I'm mainly using KeePassDX on my phone, and I've dabbled with both Nextcloud and Syncthing for synchronization across devices so Sarah and I always have access to our passwords.
I'm really diggin' Syncthing.
Wrapping it up
There's more I could say, but this is already more than I've written all year. Sarah and I still live in the same house and work at the same place. Ginny's doing well.
Merry Christmas!
---
"Where is he who is born King of the Jews? For we saw his star in the east, and have come to worship him."

Matthew 2:2, WEB
Tags: cd-listening, christmas, ginny, meet-the-mayhaks, music, photography